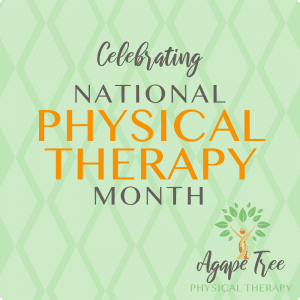 This October we are celebrating National Physical Therapy Month once again! We are raising awareness and increasing your knowledge of the benefits of physical therapy. As a promotion for the month of October here are our specials for new patients:
50% Off Initial Evaluations
50% Off 6-Treatment Plan*
To sign up for these fantastic deals and start improving your life, contact us today at (563) 265-1218!
Don't forget to like our Facebook page to keep up to date with Agape Tree Physical Therapy's trivia, tips, and raffles. You don't want to miss out on any of the fun!
* Specials are for new patients only. 6-Treatment plan must be paid in full. Please contact Agape Tree Physical Therapy for more details.
Rose Puente is a licensed doctor of physical therapy, who specializes in a variety of traditional and unique Myofascial Release (MFR) techniques. MFR helps release tissue restrictions that causes most pain symptoms.  At Agape Tree Therapy we take the time to listen and help you get to back to a happier, healthier you.   
Whether you're tired of living in pain, looking to improve your quality of life, or simply wanting to better your golf game, call us today to see how Agape Tree Physical Therapy can personally help you.